16 November 2018
ARE YOU CALLED TO MINISTRY?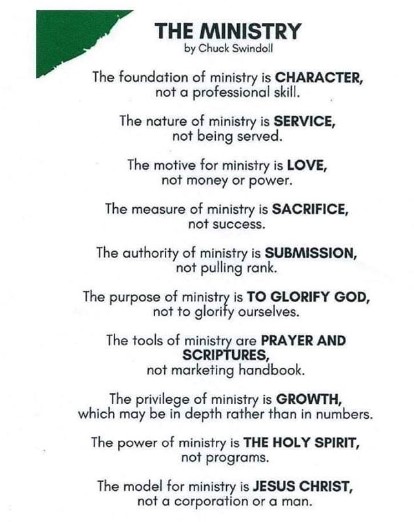 I saw the above on FB, and was so impressed by the content, Chuck Swindoll has so encapsulated what ministry is all about, I don't think I have ever seen it spelt out so well.
As every Believer is a Minister in some form or other, every point is so pertinent to every Christian whether in full time Ministry or not. Each point is worthy of a blog in its own right, but I want to major on his very first point, I feel if we get this area right, then all the other areas simply fall into place. In relation to the above I can speak from personal experience as a Bible College student, then following 20+ years of Pastoral Ministry, then moving into full time Bible College Ministry for a further 19 years.
My Charismatic/Pentecostal world was slow in coming into the academic world as such, many of our pioneers would have scoffed at degrees and qualifications. They had seen the power and demonstration of the Holy Spirit and so reacted strongly against paper qualifications.
When I began my Bible College teaching ministry in 1987, there was no Government financial assistance for students, neither did the Courses taught require stringent accreditation, but those days began to change when  government financial assistance became available, and Courses need to be approved, and Faculty Members have to have recognised qualifications.
Previously the number one criteria for those wanting to go into Ministry was THE CALL OF GOD, now the emphasis began to swing to academic excellence. We are now living in a generation  when perhaps the majority of those who sit in our pews  on a Sunday morning hold under graduate or post graduate degrees and it is important that the Pulpit Ministry be Biblical, Qualified and Anointed.. We also recognise that in the past  because of often the lack of formal training, sadly there was poor exegesis of the text (at times) and not always correct interpretation of the Scriptures.
Sadly, with the emphasis on academic excellence (and not live in Campuses these days) students do not get the Mentoring they need, and sadly, there are those now coming who had barely been discipled, and are basically Biblically illiterate. Plus, there are many other emphasises we see in the 21st Century church, that often can produce a potential lack of CHARACTER, I have written previously that my generation was riddled with LEGALISM and I am still trying to develop balance in this area, and developing a Biblical lifestyle and character as opposed to the legalistic unbiblical errors in my thinking from the past.
If you have an interest in ministry whether as a lay person in the local church, or as a Minister, here are some things to think about.
Are you being Discipled & Mentored?
Are you conscious of a Call of God on your life?
Do you believe you are growing in grace?
Seek your Mentor's counsel and wisdom about which Bible College you should attend, he can help you recognise God's Gifting/s in your life..
Spend quality time going over every aspect of Chuck Swindoll's definition of Ministry, let everyone of them become totally part of you.
Be convinced that MINISTRY IS FIRSTLY ALL ABOUT BEING BEORE IT IS ANYTHING TO DO WITH DOING.
I HAVE DECIDED TO DEVELOP AN ACCROSTIC ON CHARACTER
CHARACTER
C       CHRISTLIKENESS
H       Holy
A      Accountable
R      Repentant
A      Anointed
C      Committed
T      Trustworthy
E      Enthusiastic
R      Reliable
I wish there were more letters in the word, as there are other areas I can think  of.
Do you want to be in Ministry, let these essential keys  develop in your life?