9 July 2016
WHO AND WHAT IS NO.I IN YOUR LIFE?
We are doing a series of sermons from the Book of Acts in our Local church, I have been allocated the verses 26-40 from chapter 8. the story of Philip and the Ethiopian Eunuch, I don't often give a title to my sermons but I have for this one. A TALE OF TWO PEOPLE. 
What really impacted me as I was reading (for a background) the revival in Samaria and verse 5 says "PHILIP PREACHED CHRIST TO THEM". We know the Samaritans were a mixed raise of people formally Jews who had intermarried with non Jews and created their own religion. Philip only had one intention to preach Christ, crucified (for the sins of the world) buried (for three days and nights) and then rose again for mankind's Justification.
Preachers always have the temptation of preaching  their own emphases and biases, but Philip refused to enter into discussion on religious matters. Philip carried such an anointing on his life and ministry that signs followed his preaching. Unclean spirits began to manifest and he Philip cast them out. The sick and paralyzed were healed by the power of God, and a great revival broke out, Luke the author of Acts says there was GREAT JOY IN THE CITY. The direct result of hundreds if not thousands who knew the you of sons forgiven.
What is also so commendable regarding Philip, he could easily wanted to stay and enjoy the revival, but an Angel spoke to him, and immediately Philip responded to God's call and did as the Angel told him. He meets the Eunuch and guess what PHILIP PREACHED JESUS TO HIM. Philip only had one message JESUS, may we also only have one message, maybe many sermons but the central them is always JESUS. Philip had the joy of leading the Eunuch to Christ, and baptizing him. He completed what the Angel had told him, and Bible says he went on his way rejoicing, and preaching JESUS in all the cities till he came ot Caesarea. I want to be known as someone who preaches Jesus.
But not just Jesus as the central theme in my sermons, but the central figure in my life, as my Saviour, my Lord (The Boss) and my Lover.
Albert Osborne was the General of the International Salvation Army in the 1950's He was not only a great administrator, but a Godly leader who impacted many lives through his preaching, and writing, and the songs he wrote under the influence of the Holy Spirit. The one below I believe expresses his heart, Osborne loved the Lord with all his heart.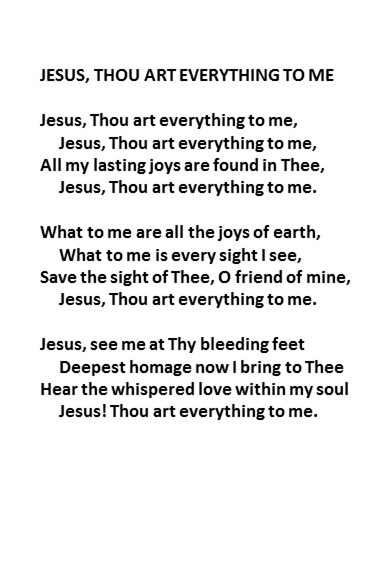 Not only do I want Jesus to be the central theme of all my teaching and preaching, but I want to keep falling in love with Jesus more and more every day.