26 March 2019
HAVE YOU CHECKED INTO BOOT CAMP YET? (2)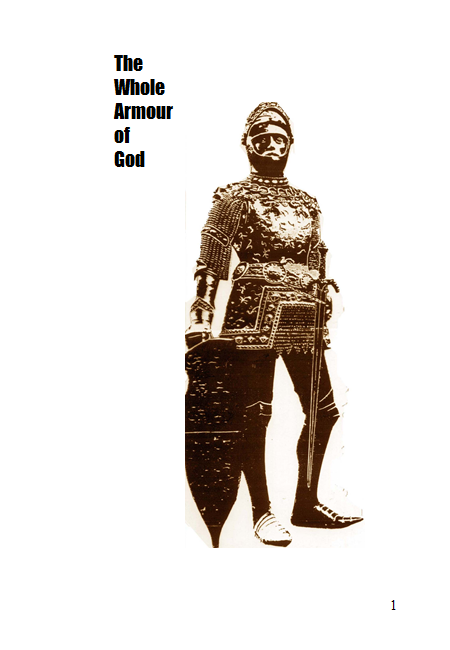 I thought I would add a picture of a Roman soldier dressed in his armour, so you may have a better idea of what Paul was seeking to describe in the "Warfare "Manual" in Ephesians 6:11-19.
Paul begins in verse 14 by saying Stand therefore, having girded your waist with truth. Most translations use the word BELT. The Belt also holds the Breastplate in place (next blog). We must know the truth, Jesus says in John 8:32 NKJV And you shall know the truth, and the truth shall make you free." We are living in a generation of Biblical illiteracy, and God's people are ignorant of what the Bible teaches about walking in spiritual victory. Paul alludes to this later in relation to another piece of armour (The Sword of the Spirit) (another blog). The enemy wants to keeps us in the dark when it comes to us understanding all about all the PROTECTION God has made available to us. The Belt is sometimes described as the Skirt of Truth as it not only a belt as we understand it but it is to cover our waist and loins. Naturally speaking a skirt would cover the reproductive area of a person, and in our sex crazy world we need to know that we can live in sexual purity, but we need to know what the Word of God says and daily apply it to our lives. Again this relates to another piece of armour (The Helmet of Salvation) (another blog) as we must learn to protect our mind.
So as part of Biblical Discipleship (Boot Camp) you must get a revelation of the power of the written Word of God and not only learn to read it systematically and daily, but study it, and meditate on it. To a Christian this means TO CHEW over every word, look at it in various translations, and ask the Holy Spirit to ILLUMINATE (turn the light on and give you revelation). The written Word (The Logos) will then become a PERSONAL LIVING WORD TO YOU, the Bible calls this the Rhema Word. There is that 18 inch drop from your head to your heart and the INFORMATION BECOMES REVELATION. I sincerely believe EVERY DAY God wants to give us a Rhema Word. Paul tells us this produces faith in our heart to believe and live the way God wants us to live. Romans 10:17 NKJV So then faith comes by hearing, and hearing by the word (Rhema) of God). To graduate from Boot Camp we must become a PERSON OF FAITH. There is a real sense that we will never graduate from Boot Camp as Paul says in Romans 1:17 NKJV For in it the righteousness of God is revealed from faith to faith; as it is written, "The just shall live by faith." So we must from faith to faith and live by FAITH.
So from the moment we enter Boot Camp we must start to learn to be men and women of the Word, as we must understand clearly what the Word teaches (THE TRUTH about living a victorious life, sadly there are many viewpoints, and interpretations, and we seek not to get into legalism, or become like a Pharisee, but walk in the liberty of a victorious Christian and fully enjoy our inheritance now as a Child of God AMEN